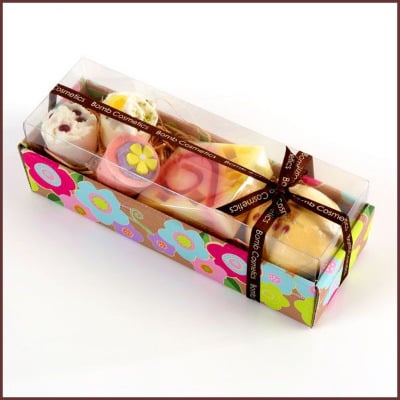 Hawaiian Flower Bath Gift Set
Gorgeous gift set containing soap, bath bombs & bath melts, handmade in the UK
Beautifully scented handmade soap slice, bombs & bath melts presented in a gift box, all handmade ethically in the UK.
Gift set contains one of each of the following:
Fantasy Island Bath Blaster 160g
Hawaiian Flower Soap Slice 100g
Fruit Squash Bath Mallow 30g
Lemon Express Bath Mallow 30g
Pearly King Bath Mallow 30g
Directions for Use
Drop your Bath Blaster in to a bath of warm water and watch as it fizzes, releasing its perfume and essential oils, while the Bicarbonate of Soda softens the water. Rinse bath well after use.
Drop your Bath Mallow into a warm bath and it will fizz softly, releasing its moisturising Cocoa and Shea Fruit Butters into the water to moisturise your skin. Our Bath Creamers also contain wonderful perfumes and essential oils to make your bath smell beautiful. Please ensure you wash any petals away from the bath after use to prevent accidental staining.
Soaps can be used like any normal bar of soap but they are much milder. Simply rub the bar repeatedly between wet hands until you form a lather to clean your skin with. Alternatively, rub the bar on a sponge.