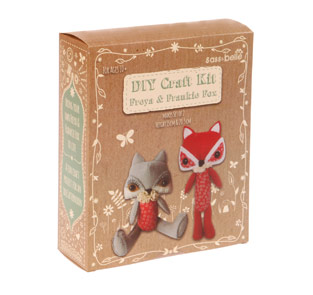 Freya & Frankie fox sewing kit
The kit contains all the materials and instructions needed to make both of these adorable foxes.
This DIY craft kit comes in a cardboard packaging size 20 x 16 x 6 cm and contains everthing you need to make these two gorgeous foxes.
Freya is approx. 15 cm and Frankie is approx. 20cmm.
CONSISTS OF: 5 x cut fabric pieces, 40 x cut felt pieces, 4 x plastic buttons, 2 x cuts of lace, 4 x colour threads, 1 x bag of stuffing.
FOR AGE: 10+
WARNING: Not suitable for children under 3 years.